Child Protection and Working With Children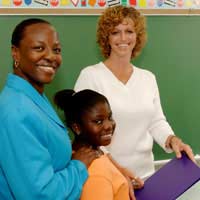 In our changing society, it has become necessary to constantly review the welfare and protection of children. With this in mind the government, in conjunction with all the leading Welfare and Social Services agencies came together with Ofsted to produce and implement the Safeguarding Vulnerable Groups Act 2006.
What is the Safeguarding Vulnerable Groups Act 2006?
The Safeguarding Vulnerable Groups Act 2006 is designed to implement new and more stringent ways in which to carry out checks on those individuals who wish to work with children, the elderly or people who are classed as being in positions of vulnerability. The act gives employees new powers - in conjunction with those bodies who oversee the checking of potential new employees - to help confirm the safety and reliability of those individuals who wish to work with those who fall under the auspices of the Safeguarding Vulnerable Groups Act. The act also looks at how bodies such as the Disclosure and Barring Service (DBS) carry out their tasks which include providing basic and enhanced disclosures for potential employees and employers and deals with how the system can run more efficiently and with tighter restrictions than are currently in place.
What is Child Protection?
Child Protection is the means by which any organisation or individual is charged with the safety of children under their care or within their scope of activity.
These groups include:
Teachers
Social Workers
Care Workers
Doctors
Health Visitors
Of course this is not an exhaustive list but merely seeks to cover those groups who come into contact with children on a more regular basis - other than the children's parents.
These organisations are already obliged by law to inform the authorities of any suspicions they have in relation to the welfare and safety of any child who comes into contact with them. If an individual suspects sexual abuse, physical or emotional cruelty, maltreatment or instances of risk then they should inform the correct authorities that a thorough and proper investigation can take place.
The changes in legislation are designed to ensure that if such a suspicion is raised that it is acted upon in good time and with the full co-operation of all the relevant bodies. This ensures that all agencies involved in any such investigation are fully conversant with each individual case and are also in a position to act in the best interests of any child or vulnerable person that may be in need of help.
If you suspect - or are in any doubt - as to the safety and well being of anyone who might fall into the category of a vulnerable personal then in the first instance you should make contact with your nearest government agency and ask their advice.
Likewise there are community groups who can offer friendly and informal advice as to how to proceed if you feel you are being witness to - or know someone - who is in need of assistance from the authorities.
As in all of these cases however it is important to be fully aware of the facts and therefore consulting with someone in a professional capacity is probably the best course of action in the first instance.
You might also like...
Hi, our local youth club is in its 125th year and currently some major changes are taking place. The person who has been running the group is leaving in 2 weeks time and the second in command is on sick leave (for how long we are not sure). This leaves the two younger members of staff, one male aged 21 and a female aged 22. We are wanting clarity on the level of safeguarding training required. We have 1 young volunteer also, and everyone is DBS checked. Myself (mum of the 22 year old)and the parent of the 21 year old are willing to help as we can which will be more in the background, checking forms, banking, planning activities etc and the other mum can also attend on the evening of the youth club but is awaiting her DBS check. The young male is currently awaiting his level 3 safeguarding course which is in June. Hope this all makes sense, but from what I have read, legally there is no requirement but is just good practice and someone needs to be able to report any issues! For the record the children attending are aged 8-13 and we have around 14 in attendance.
Mrsf
- 30-Apr-18 @ 10:23 PM
My girlfriend teaches ballet and she has asked me to take photos of her classes for the parents of the girls that she teaches. Obviously this can only be done with the explicit approval of the parents, but I wanted to receive your guidance about the practical steps that I can take such as any qualifications ?Thank you.
Steve
- 6-Aug-17 @ 10:45 AM
Hi, I am interested to start art classes for children of 5 to 12 year old. The classes will take place in my house. I have a DBS check. I am aware that I need public liability insurance, but I am not sure if i need anything else. Also if I should expand and include classes for pre-school children would I need anything additional? Do I need to register with OFSTED? I would be very grateful if you could advise. I look forward to hearing from you. Regards Diti
Diti
- 22-May-17 @ 10:55 PM
Hello, I am a yoga and meditation teacher and am about to qualify as an NLP practitioner. I am already teaching yoga and meditation at the local college and am looking to take my work with young people further. There are many groups helping young people with disabilities or mental health problems but I really think there are a lot of teens that still don't have services available to them, and I would like to help fill that gap in wellbeing services. I am currently teaching from a room in a local theater as well as at college and potentially have a treatment room to work in from home too (adults but also open to young people, not sure how this would work with the usual concerns to do with working with young people, perhaps not possible). I am just curious as to how I am to approach setting up say, an independent meditation class for teenagers and young adults. What is required of me other than a DBS/CRB check and insurance? Kind regards Ashleigh
Ashleigh
- 24-Mar-17 @ 9:14 PM
We are grandparents. Our daughter refused to allow her 15 years old son back into her home when school closed. Children's services asked if we could look after him whilst they sorted things out with mum. Two days later our granddaughter came to us with a black eye and confided that her mum did it and had been hitting her regularly. We could not take either child back to their mum in such circumstances. Social workers advised that it was, in their opinion, safe for both children to return home. Their mother flatly refused to take either child back home. Our daughter has mental health issues and Children's services know she has drug issues. She failed two hair strand tests in family court and her youngest son was placed with his father. The two eldest remained with mum but there has been no follow up care despite school and housing association advising that home and family in crisis. Our emotionally damaged grandchildren have been with us for nineteen weeks and we have had no help from any agency and no agency has attempted to help our daughter. Who has any duty of care?
hugh
- 19-Jan-17 @ 7:45 PM
Hello I am starting a charity with a colleague who is a qualified counsellor. We will be setting up a youth advice centre, for ages 14-25. Young people will be able to drop in to the centre for advice on anything from one-off everyday life worries, to emotional issues, to more complex emotional or mental health problems that might need longer term counselling.Whilst I have many years business experience and am fully competent in running the charity, my only experience of working with children is in bringing up my own 3 children.I would like to be able to personally help children and young people needing advice that falls outside of full on counselling.Am I able to do this, and can this be unsupervised, before I obtain any qualifications? I have an enhanced DBS certificate and have completed safeguarding training and fully intend to commence training for Level 3 NVQ in youth work once we have the charity running but this will of course take some time before qualification is achieved. Will I be precluded from working with the children and young people in the meantime? Thanks for any advice you can give
Mandy
- 12-Jul-15 @ 4:47 PM