Garden Creature Wordsearch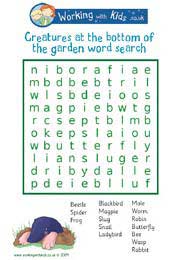 Murray the Mole loves digging about at the bottom of his garden. He also likes to hide from everyone, then pop out and give them a surprise!
Today he's having a look around for all his other garden friends - but he can't find them! What creatures do you think Murray will be able to find at the bottom of the garden?
There is a list of all the creatures Murray is looking for on this puzzle sheet. He'd love to find Billy Butterfly and Wendy Wasp, but he needs your help. How many of Murray's friends can you find in the wordsearch?
Why not Download the Garden Creature Wordsearch and see if you can find all the hidden animals.
For Parents
This activity is aimed at 4 to 7 year olds, it's a fun activity for any child, and can be used as an interesting way to help children with their reading and literacy skills.
We have many other games and puzzles in the Download section which can be reached from the sidebar on the left. All our printable puzzles are completely free and are great to keep on hand for kids to do at any time, or as a fun rainy day activity.
All of our puzzles are supplied as a pdf so you'll need to have Adobe Acrobat installed on your system. If you haven't, Google it and you'll find lots of places and instructions on how to get it.
You might also like...
The information(articles) are very good and useful for anyone working with Children. Kindly accept my appreciation for the same. Rajendran
Peter
- 20-Jan-13 @ 2:25 PM