Classroom Assistant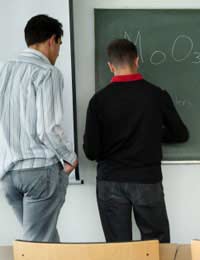 A classroom assistant is someone who will aid a teacher in the teaching of his or her classes by spending time with the pupils – who are normally of primary school age – during class time. The role of a classroom assistant is to assist with those classes where numbers are high and the teacher is required to spend most of his or her time teaching the entire class as opposed to spending time on a one to one basis.
Typically classroom assistants will help with any of the following:
Preparing the classroom for lessons
Listening to children read
Telling the children stories or reading to them
Assisting with maths
Helping children who need additional support in class
Assisting with school outings or sports days
Again not an exhaustive list but a list which certainly contains many of those tasks which make the classroom assistant an invaluable aid for any teacher – especially those teachers who have high class numbers or classes containing problematic children.
In Secondary school education a teaching assistant would normally be found to be assisting those pupils who have learning difficulties or some form of disability as it is now common place for disabled pupils, or behaviourally disadvantaged children, to be fed through the mainstream education system as opposed to sending them to special needs schools, which are now becoming fewer in number.
As a classroom assistant you may find that your title is not that of Classroom Assistant but that of Teaching Assistant, Non-Teaching Assistant or Learning Support Assistant. There is also what is known as Higher Learning Teaching Assistants: these assistants have more say in how lessons are put together, prepare teaching aids and materials, supervise the class in the absence of a teacher and also help other teaching staff as and where necessary. As a Higher Learning Teaching Assistant (HLTA) you may also be required to assess the work of the pupils in your class.
How to Become a Classroom Assistant
A good place to start if you want to become a classroom assistant is to volunteer at a local school. Perhaps you are a parent yourself and have a child attending school – if this is the case then you could offer your services to the school to help out where class size demands. If you do decide to volunteer at your local school you must first – as is the case with all roles involving children, the elderly or the vulnerable – have a DBS check carried out. This DBS - Disclosure and Barring Service check allows the school to obtain information as to whether or not you have a criminal record or whether you are a risk to children, the elderly or people considered to be vulnerable. Obtaining this disclosure early on is a distinct advantage.
You should be enthusiastic, easy going, creative and be able to work as part of a team. In addition to this you should be able to communicate as positively with children as you would with adults. Children find it difficult to communicate with adults who find it difficult to communicate with them.
The entry level criteria will vary from school to school so it is best to contact the school you are interested in volunteering for – or your Local Education Authority (LEA) – who be able to put you on the right track.
In some areas of the country new pilot schemes have been rolled out whereby individuals can qualify to become a classroom assistant with qualifications that are similar – and also recognised in the same way – as NVQs.Again it is best to consult your Local Education Authority (LEA) to see if this is the case.
It is also worth mentioning that – as a classroom assistant – your time may not always been spent on site and you may be required outside the normal school hours if outings or after school clubs take place. Again this varies from school to school but if you are enthusiastic and motivated then this will not be a problem for you.
Being a classroom assistant can be a rewarding and character-building occupation, which has led to many classroom assistants continuing their study in order to become full time, qualified teachers.
You might also like...
Hello. Thanks for the article. I'm a french living in France. I'm doing my bachelor degree in English (literature and British civilisations). I would like to become an English teacher. Meanwhile, I would like to spend some time in UK to become more fluent in language. Do you think I can do some volunteer work as classroom assistant? Need your guidance. Regards.
Heera
- 22-Jan-16 @ 2:35 AM
Verewhite - Your Question:
Hello, my name is Natalie and I currently work in a school as an LSA. I am eager to teach KS1 but only have NVQ's. Id study a 2 year foundation degree in education but unsure as what to do after. Can someone help please? Thank you
---
Our Response:
Please see UCAS video link
here
which shows you which route may be right for you. I hope this helps.
WorkingWithKids
- 7-Dec-15 @ 11:30 AM
I am currently studying Btec Level 3 Health& Social Care extended diploma, My career aspiration is to help those children in schools who have special educational needs/learning difficulties, Is this course a good stepping stone towards my goal? Would I need to progress onto a childhood education degree in order to attain this title..
Hello, my name is Natalie and I currently work in a school as an LSA.I am eager to teach KS1 but only have NVQ's. Id study a 2 year foundation degree in education but unsure as what to do after. Can someone help please? Thank you
Verewhite
- 4-Dec-15 @ 7:45 PM
I have currently graduated in Education Studies (BA) Hons. I am interested in working with primary school children, however i do not have much experience working with children. Would this ideally be the first step to take to gain further knowledge in the classroom and with children in a school? Im still unsure whether to go for a SCITT course or a PGCE or even Schools Direct.
jini
- 22-Aug-15 @ 9:38 PM
Hi,i want to be a teacher assistant. I have done bachelors degree in education(b.ed) from Nepal. But I don't have any experience before ,I love to working with kids and also decided to be a T.A so can you please advice me whattraining do I need and also looking for a place for volunteer .many thanks pratima,
no nick name
- 18-Jun-15 @ 1:02 AM
Helo Can you please send me more information RE: Teaching Assistant in Victoria BC I havea BC "ECE Licence To Practice" and TESL (ESL Instructor Certificate) Many thanks! Sincerely, H. Willeumier
Hetty
- 4-Jun-12 @ 3:10 PM
I am very interested in becoming a classroom assistant and have a Btec national diploma in childhood studies. I am also a mother of 2 children, Ethan who is 2 and a half and freya who is 5 months! I have had lots of experiance in working with children and I feel that I would be very well suited for this position. If there is any information you would be able to send me regarding becoming a classroom assistant I would be very grateful! Kind regards Amanda symonds
Mands
- 23-Feb-12 @ 11:27 AM
I want to became a classroon assistant. I love to work with the kids and I hope to get this volunteer job before the schools close, so I can get the job in sept. please would you help me that. thank you
Hamda
- 15-Jun-11 @ 10:05 AM
I have completed my nvq2 in early years child care and development but now have decided to move into a school position of teaching asssistant (hopefully). What is the best course for me to go onto next?
DAISY
- 14-Jun-11 @ 2:30 PM
I want to became a classroom assistant. I hope to get on the right Course in Sept. I do a bit of voluteer work as a helper in my school, I am also a Midday Lunch Supervisor Assistant. What Course do I need to go on? Help!!
Cat
- 10-Jun-11 @ 9:19 AM