Voluntary Work in Schools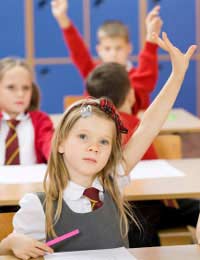 The vast majority of schools appreciate voluntary help. Voluntary work in schools can come in many forms, from relatively 'official' posts such as school Governors, to more 'informal' positions like helping young children with reading on an ad hoc basis.
DBS Checks
Anyone that works with children in any capacity is now required to have a Disclosure and Barring Service (DBS), check. Of course, the vast majority of people that are required to complete this check are more than happy to comply with such an important regulation. The DBS check determines you have not had any criminal charges against you, especially those which relate to children, and is a Government programme to support agencies and businesses that are there for the benefit of children and young people.
Voluntary Learning Support Assistant
Some big schools, especially those with a large number of children with learning difficulties or many children for whom English is not their first language, have voluntary learning support assistants that work in the classroom, usually on a very part time basis. Usually, but not always, these volunteers are the mothers or fathers of children in the school. Their role will see them helping children to read or prepare for activities, perhaps getting ready for a certain play or school event. As such, many volunteers 'donate' two or three hours a week and will do whatever the teacher asks of them. While there is no payment, it can be a great way to gain experience if you are looking to become a paid learning support assistant.
Governors
School Governors are voted in to their position and usually stay for at least one year. It is a very visible voluntary position and is often seen as a 'strong person in the community'. As such, you may find that the role brings with it extra responsibilities, such as writing or providing references for various parents or children or writing letters of support for funding claims.
Most school Governors have already been PTA (Parent Teacher Association) members at the school, often during times when their children attended the school and becoming Governor later. Such a position can be quite 'political' in the sense that other Governors, teachers and parents will have their own views on how things should be done and why, consequently you need to be diplomatic and unflappable to succeed.
PTA Members
Being a member of the Parent Teacher Association at your children's school is a great way to meet other parents and understand more about the philosophy of the school. There are usually meetings each term and additional requirements for assisting at functions or school events. You will also be expected to attend the AGM. Many people that move to a new area with their children find that joining the PTA helps them to get to know the area and other families far better than simply attending the school, with many stay at home mums and dad eager to utilise their previous experience in marketing, accounting, management or whatever.
You might also like...
Hello, I am interested in volunteering in the education sector, and have completed my level 2 Award in Support Work in Schools, and I need a placement for me to progress on the next level of the course, which is the Certificate in Supporting Teaching and Learning (Level 2) programme. As having a work placement is a mandatory requirement to enrol on the course.I would be very grateful if I could be given this opportunity. Thank you My contact number is: 07775445351 Regards Saiqa
Naafisa
- 5-Jul-21 @ 10:30 PM
I am interested in volunteering Plz call me on 07576387707
Maria
- 15-Jun-21 @ 12:12 AM
Hello, I am looking for a volunteer opportunity with in the education sector and wanted to know if you had any roles that I could part take in. I have a level 2 award in support work in schools and in order for me to progress, I would need to find a work place. I would be very happy if you would assist me further.
Charz
- 19-Oct-20 @ 5:51 PM
hi i would like to gain some experience in primary school and I already have level 3 qualfication
henna
- 11-Sep-20 @ 6:40 PM
Hi my daughter instead in volunteering work can you call me on 07427667949
Dukas
- 2-Mar-20 @ 8:33 PM
Hi my daughter looking for volunteers work can you call me on 07427667949
Duka
- 2-Mar-20 @ 8:31 PM
This leave to first bit write a school in derby
Sarah
- 23-Nov-19 @ 9:18 PM
Instead in voluntary in your school please let me know soon
Sarah
- 23-Nov-19 @ 9:15 PM
Hello, I'm Rochelle, I have a Level 3 extended diploma in health and social care. I done a lot of work experience in nurseries. I want to continue my studies to become a primary school teacher and would love the chance to have some work experience in Primary School
Rochelle D
- 18-Nov-19 @ 4:14 PM
Good morning, my name is Raffaella.My future ambition is to become a teacher assistant, and I'm looking for a volunteer opportunity to gain experience and improve my English skills in the school, where I would love to work one day. I hope you can take mein consideration for this position. I thank you for your attention. Regards, Raffaella Cognigni.
Raffaella Cognigni
- 1-Nov-19 @ 10:52 AM
Hi , I plan to pursue PGCE next year . I have 8 years of teaching experience in India . I want to gain voluntary experience at a local school near Stockton on tees and understand challenges faced by a teacher . Please help .
Smriti
- 31-Oct-19 @ 4:02 PM
Dear Madam,Sir.Teacher A highly successful and experienced Arabic Language Teacher Fluent in English French and German seeks a suitable position. BA in Arabic Language and its Equivalent Form The USA. English and French Languages certificate From The Grenoble University France. German Language certificate ZDF. Twenty Five years experience in Teaching. For The moment Iam working in One of The best French schools in Casablanca Morocco. Best Regards.
A highly
- 30-Oct-19 @ 9:32 PM
Hi I have recently finished my ESOL course level 1 at Regional College in Cambridge but I am living in Hurbbert Bridge Boston now. I used to be a Teacher for 8 years when I was in my country. My future ambition is to become a Teacher Assistant so I am looking for a volunteer opportunity to get some experience and improve my English skills in a school or a nursery. Any position would be appreciated. Thank you
Chandi
- 10-Oct-19 @ 4:10 PM
Hi I have a studied level 3 in childcare am looking for a volunteer job in a nursery to get experience.
Shab
- 4-Oct-19 @ 8:55 PM
Hello, My name is Tyler Lawrence, I am currently studying NVQ Level 2 childcare at college focusing on ages 0 to 5 years old and as part of my coursework was to find work experience in a young people's setting such as a reception class for example. I was wondering if there was any placements available in your facility so I am able to gain an insight of what it would be like to work in a childcare environment. Please get in touch with me if this would be possible. Thank you. Yours sincerely, Tyler.
I would like to volunteer in a nursery/primary school to get experience, i have a 5 year old son. I had some experience in reception when i was in college but didnt complete the course.
Sarah89t0mmy14
- 26-Sep-19 @ 1:51 PM
A compassionate, patient and caring individual is seeking for any role, in any Education settings as a volunteer. I have being a primary caregiver for my father in-law for 7 years, same time looking after my child who is 4. However, father In-law has being moved to a care home, and my child is back to full time school. I have all the time I need to become useful. Any position will be highly appreciated Thanks.
Edy12
- 20-Sep-19 @ 10:54 AM
Hi I'm looking for volenteer job in childcare,nursery ,reception I had experience for 5 yearsin teaching abroad my level in English is level 1 I'm looking to improve my English and working as volenteerI'm looking for job just in Tuesday and Wednesday thank you
Nadia Admou
- 15-Sep-19 @ 8:48 PM
I work part time at a local college and am a dab hand in computer literacy. I have spare hours every week that I would love to spend helping out at a school in any role. I am a Nana who lives hundreds of miles away from her grandchildren and miss their chat and laughter.
hi I am interested in voluntary work starting in september i am studing cache level 3 in teaching assistant course.
sanam
- 21-Aug-19 @ 1:27 PM
I want to start my career as a primary school teacher. Need to gain experience and also understandthe day to day responsibilities of the teacher through volenteering . Please help
Mani
- 29-Jul-19 @ 11:30 AM
Hi I am an Arabic teacher. Looking for a volunteerteaching assesstanc.I had MA From sheffield university. And work experience 5 years abroad with childern. I love to work with childern.I live in sheffield s4 8lb.Please if there is any primaryor secondary school need help I cando this job. Thanks
Amy
- 7-Jul-19 @ 12:03 PM
Hi, I am starting my teaching assistant course in college. So, I need voluntary work in class room at school. I am good at help children with reading and math work. I am available in any time. If anyone could please help I would be extremely grateful. Thanks, JASMIN
N/A
- 30-Jun-19 @ 2:07 PM
Hi am precious I live in Manchester and am looking for a Placement in schools were I can do a voluntary work can you help me find a space thanks
Aisosa
- 27-Jun-19 @ 11:43 AM
I have been a school governor albeit a few years ago. Whilst holding the role I used to go into school and read with and to the children I am now retired and would love to do this again. How can i find a school that is looking for someone to volunteer please.
Sandra
- 18-Jun-19 @ 1:52 PM
Hi I'm doing a cache level 2 ta course and need a volunteer placement in a school within the Greenwich borough to hopefully start after this half term, I have experience in childcare but need experience within a primary school setting, if anyone could please help I would be extremely grateful.
Nic
- 22-May-19 @ 10:29 AM
Hi there could you please help me i am looking to volunteer in a nursery. I have worked in a nursery setting before and i need to cover a months time to get in to work. Thankyou
Missy
- 7-May-19 @ 4:11 AM
Hi,I am looking volunteer work with primary school children.I'm very good to help children with reading and math work.i'm looking this in Hayes area. Thank you
Noor
- 2-May-19 @ 11:30 PM
Hi I'm looking to work as a classroom volunteer to help primary kids with reading and maths . I'm very good with kids and enjoy helping out .in Whitley, Reading or surrounded area .
Sara
- 24-Apr-19 @ 6:10 PM
Hello I have been out of work for quite a while now bringing up my children butI am looking for voluntry work nowwith children. I have got an NVQ level 2 already & lots experience. Can you please help me find something local in gravesend Kent. Thankyou.
Kel
- 22-Apr-19 @ 9:53 AM