Volunteering at a Summer Camp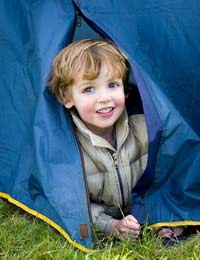 Volunteering at a summer camp is a great way to spend time with children, develop your organisational skills and spend some time experiencing other parts of the country or even the globe. It will also look great on your CV!
What is Summer Camp?
Summer camp is primarily an American idea; the idea being that children can have the opportunity to mix with other children of their own age and slightly older with a view to broadening their own horizons and also fitting in.
The concept is one based around the idea of personal growth and summer camps across the United States offer children – from many different backgrounds – the opportunity to communicate and build friendships with others as well as having fun.
How Can I Get Involved?
Each year summer camps advertise – on the Internet, through schools and universities and in educational magazines – for volunteers to act as Student Counsellors and Activity Leaders. There are a variety of different styles of camps such as Non-Profit, Faith Based, Special Needs, Girl Scouts and Independent camps that require large numbers of volunteers to help them with the numbers of children who attend.
What Sort of Person Do These Camps Look For?
The summer camps look for individuals who are:
Outgoing
Fun-loving
Sensible
Able to relate to children
Have the ability to listen
You don't need to have a degree in Psychology or any formal qualifications but you do need to possess some – or all – of the aforementioned traits in order to fit in.
How Can I Apply?
Simply download or send off for application forms and camp brochures. You should also be aware that although you are volunteering to help at a summer camp you will need to pay to get yourself there. You should be available to travel between May and September so apply in plenty of time.
All prospective volunteers are vetted carefully so you should be prepared to supply references and also have a DBS check. The Disclosure and Barring Service (DBS), check is essential and anyone without a DBS check will not be considered. This is simply a matter of precaution and applies to all applicants.
Interviews for the positions are held in the United Kingdom so there is no requirement to travel to the United States in advance of your trip.
Will I Be Staying at the Camp the Whole Time I'm Away?
There is the opportunity for travel when you are in the States and most camps will provide you with small amount of spending money depending on the level of your volunteering position. There will also be opportunities to attend seminars and lectures held by camp staff and field trips with the children whilst there.
You might also like...
I am looking to volunteer at a UK summer campthis summer. What or where can I apply. Thank you
Can my daughter volunteer at a summer camp? she is 17 and studying for a levels?
evans1942
- 24-Jan-16 @ 3:12 PM
I am looking for a volunteer for summer with my daughter who is turning 18 by next week.She wants to be a kindergarten teacher and I used be a camping couselor in USA at YMCA camp when I was very young.My daughter is aming to work with a young kids and I love kids and would like to have a wonderful and valuable summer.Please let us know if there is a possibility to do voulanteer by the first week of August to about 2 weeks.
Lisa
- 22-Jul-15 @ 9:44 PM
@kathy - I'm sorry we are a UK-based site and we don't have access to U.S-based voluntary organisations.
WorkingWithKids
- 16-Feb-15 @ 11:47 AM
I would like to volunteer in the states this summer, but i am wanting to do it with my 5 year old daughter.Is this something that might be possible?
kathy
- 13-Feb-15 @ 2:37 PM
Hi, I'm looking for some volunteer work at a kids summer camp in 2015, any help? Thanks
Dans
- 27-Dec-14 @ 9:40 PM
Summer voulanteer ,beginning July to end of August,uk ,please
Kerry
- 25-Jan-14 @ 12:05 PM
I want to volunteer in the states in the summer .Do you also only take youngsters or do you take oldies like me i am 45 years old.lol
Soupie
- 5-Dec-12 @ 12:43 PM