The 'Every Child Matters' Policy Explained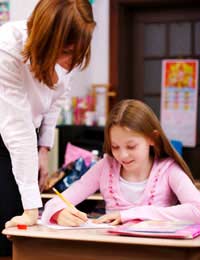 If you work with children, or you're a parent, then you may well have come across mentions of the Every Child Matters policy. But in simple terms, what exactly is it and what does it mean?
The Every Child Matters policy is a relatively new idea thought up and implemented by the government. It applies to the well-being of children and young people from when they're born up until they reach the age of 19 and is based on the idea that every child, regardless of their individual circumstances or background, should have plenty of support throughout their life.
In fact, there are five key principles to the policy which the government believe children should have support with. These are:
To be healthy.
To stay safe.
To enjoy and achieve.
To make a positive contribution.
To achieve economic well-being.
Putting the Policy Into Action
The policy applies to everyone who works in any capacity with children, or providing services to children. This includes professionals such as teachers, social workers, foster carers, hospitals, children's homes, social services and the police, as well as any voluntary groups or charities who work with children. The idea is that at the core of all the work they do, these five simple aspects should be remembered and put into action, to ensure children get the best start in life.
Part of the way the policy works is to get all the different groups of people who work with children in any way or form to join together to share information about how they can best promote the needs of children and help them gain the most out of life. The policy also brings to the forefront the benefits of asking children and young people to share details about issues are important to them – something that has often been overlooked in the past or downplayed.
This is really good news for children and young people as this means their voices and views can be heard. It's also good news for families too, who may otherwise have felt out on a limb and that the needs of their children in society may be forgotten.
It sounds good in theory, but how do children and young people actually make their views known? The idea is that all the local authorities throughout the country work with various groups and organisations to find out what children think. It's not necessarily a quick process, but once their views are known, the idea is that they'll listen to their views and try and implement new ideas to help some aspects become reality.
The government appointed the first ever Children's Commissioner for England to help with this process and it's their job to give children and young people a proper opportunity to have their views and thoughts known. Again, this is done in part through work with community groups and children's organisations, giving particular focus to the needs of those deemed to be in a vulnerable position.
Overall, the policy has been mostly welcomed by those working with children. The core facets are all key areas that everyone working with children strive to foster and the policy helps strengthen these needs and requirements.
You might also like...
Our family has been caring for a child (now five and a half) for two and a half years. The local authority is putting her up for adoption and she has stated on numerous occasions that she does not want to leave us. We are unable to adopt her as our circumstances does not permit, but we are able to keep her on a long term fostering basis. Her advocate is doing nothing. Is there any advice please?
Very concerned
- 20-Sep-17 @ 7:32 AM
Our foster children of 4 years have just been told their to go back home. And they sobbed they don't want to go the children wantto stay with us. Both children are academic and enjoy school. They've been told they have to change schools. I have accessed a advocate for them. Yet to meet.
Please can you tell me the current legislation in the UK that covers parental involvement in schools?
The Every Child Matters publication was archived in 2010 (2 government policies ago). Although the summary text above was correct when the item was first published in 2003, the document is only for reference and should not be considered to reflect current government policy or guidance.
TrueFactsFrappy
- 6-Feb-17 @ 7:49 AM
i work in a law firm, helping families who needs child maintenace. this website helped me a llot thank you so much :)
Baby
- 18-Jan-17 @ 12:50 PM
fsdtggdfyhdryhsgfdet - Your Question:
Thx for making this website I really like it and I learnt a new word child matter
---
Our Response:
We are very glad it helped you.
WorkingWithKids
- 14-Jun-16 @ 12:20 PM
:) thank you for your help. i understand what 'Every Child Matters is now.
butterfly 1
- 13-Jun-16 @ 1:49 PM
thx for making this website I really like it and I learnt a new word child matter
fsdtggdfyhdryhsgfdet
- 13-Jun-16 @ 1:49 PM
My 9 year old daughter found out this week who her new teacher and class mates are to be for the forthcoming year.I have no problem with her new teacher, what does concern me is that she has none of her friends in her class.In her latest school report it states 'has a good group of close friends'. Nowhere does it state in the report that these friends are a distraction or even caused any problems in school.I have never received anything from the school advising of any behaviour issues etc with my daughter. Since finding out she is crying herself to sleep at night and is easily upset when thinking of going to school, my daughter has certainly lost her sparkle. I have written to the schools asking for an explanation of their decision and, so far, I have not had the courtesy of a response, not even an acknowledgment of my email!! Can somebody tell me how this enforces the 'Every Child Matters' policy? Thanks
Unhappy
- 5-Jul-15 @ 11:39 AM
I am very concerned with the following actions South Cave C of E Primary School have taken.To quote: "We are holding a school disco, as an additional reward, on Fri 3 July, for all Children who have not received more than 3 behaviour sanctions (yellow, blue or red cards). We will be giving out invitations on Wed l July. The disco for KS1 will take place from 6pm to 7pm and the disco for KS2 etc., etc." These children have already been reprimanded, (ages 5 and 6+).Now they are being ridiculed.Is this the way to encourage future good behaviour and trust? Some of these children come from difficult backgrounds and some are foster children. (just so you know my grandson was invited to the disco) I shall be pleased to hear your thoughts and comments on this.
Concerned
- 2-Jul-15 @ 12:38 PM
Hi I have seen a local website promoting model experience days for teenagers aged 13-18 years old. Do the people who run this have to be CRB checked and can teenagers under 18 be photographed in this manner? Should the website state that anyone participating in these events have an adult present? I would welcome any advice on this TG
I find I cant learn enough about being a foster carer so the more I read the better. I value other carers knowledge and experience.
chris
- 29-Mar-11 @ 2:45 PM