Appropriate Language for Dealing With Children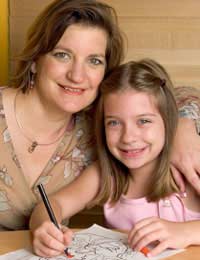 It may sound obvious but working with kids is not the same as working with adults. That is not to say that you have to talk down to kids or that they cannot understand adult concepts, but you do have to talk appropriately to them in order to make a meaningful connection.
All too often people who work with or deal with kids talk to them in a way which alienates them, often by trying to be overly friendly or unnecessarily strict or patronising. Most children are very smart and are keen to be spoken to as such.
But how do you do that and what is the line between being too friendly and not friendly enough? How do you make sure kids respect you without thinking you are a pushover? It's a tough one, but one which will make al the difference in how good you are at working with kids.
Rule One
The first rule is that you don't need to talk like the kids to be respected by them. In fact, children find it terribly embarrassing when adults try to use 'their language' in an attempt to gain favour. Far better to be yourself, without being overly stuffy or formal, and speak in a way which is appropriate for your age and position.
Rule Two
The second rule is that you do not have to be their friend. Once you realise that working with kids is a real privilege, you can work to develop a relationship of mutual trust. Kids have their own friends (hopefully – although being a mentor is a different kind of role with its own rules) so you need to be a strong adult figure.
Rule Three
The third rule is that you need to be aware of kids pushing the boundaries with language. How you can handle yourself in these situations with have a great bearing on how much the children you work with respect you – you do not have to put up with swearing in a maths class, for example, but if you work with kids in a drama group there may need to be more leeway.
Rule Four
The fourth rule for appropriate language when working with kids is how you speak to them when you see them outside of your normal setting. So if you bump into a child you teach at school shopping on a Saturday morning, don't try and be all chummy if you are usually very strict. Not only will they feel embarrassed, but it will undermine your role in the school setting. Ideally, you don't want to be in the same places that your pupils might be!
The final word of warning for using appropriate language for working with kids is to remember that this is your 'working self', so you do not have to use the same language you would with friends when you are working with kids. We all have to put on a 'work mask' to some extent, and working with kids is no different.
You might also like...
@evie - you might want to see a doctor about this, as it doesn't seem natural. To behave in such a way might mean he is stressed out about something, or that something is bothering him in a big way. If he is not like this normally, then you may also want to have a word with his teacher to see if she has noticed anything unusual at school. You also might want to try and sit him down and have a chat to him yourself to get to the bottom of it. I hope you manage to sort it out, but don't take it out on him because he's only small and probably isn't aware of what is going on in his life himself. If it is his normal behaviour then this is not natural either and he may be suffering from something like ADHD or similar, so then you should be visiting your GP, so your GP can do an assessment.
Fee
- 25-Feb-15 @ 2:34 PM
My 9 year old son is so hyper when he comes back from school he throws cushions cushion pads all round the room. He hits us pulls out his teeth. Rips his clothes shoes.He bangs shouts slams doors damages walls. Bath panels and smears pop all over the toilet roll. And blocks up the toilet and sink. It's never ending each day is a nightmare and I almost don't want him in the house
evie
- 23-Feb-15 @ 7:16 PM