Cooking Clubs for Kids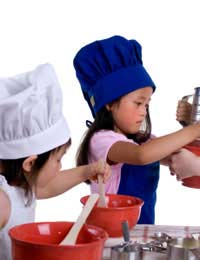 With over 2.3million children under 12 in the UK classified as 'obese', it's no wonder that there are a growing number of organisations popping up to help educate children on how to eat healthily.
Overweight children are setting themselves up for a very unhealthy adulthood, with the UK's children of today often cited as the first generation that may not have a longer life expectancy than their parents. Problems such as high blood pressure, high cholesterol levels, type two diabetes and liver disease are all starting to become common illnesses in children, whereas in previous generations they were not evident until at least middle age.
A recent study has shown that children born to fat parents are 10 times more likely to be fat themselves, with a particular link between parents and their same-sex children, so a fat father is more likely to have fat sons and a fat mother is more likely to have fat daughters. Overweight parents are also more likely to over-feed their children, yet under-exercise them, perpetuating their weight problems and not giving them the tools needed to maintain a healthy weight.
Cooking Clubs
All this information is pointing at the importance of educating children and their parents in what constitutes healthy eating. A number of cooking clubs for kids are now available, many connected to schools, youth clubs or community centres.
One such organisation is 'Let's Get Cooking', a Lottery-funded, nation-wide club that is fronted by celebrity chef Prue Leith. 'Let's Get Cooking' has established a network of cooking clubs for kids at over 2,000 locations, with plans for a further 3,000 by the end of 2010. Here, they teach children and their parents about the basics of healthy eating, including healthy and affordable meal planning, where food comes from and how to prepare simple, tasty meals.
The Government's Food Standards Agency has also set up an organisation called 'What's Cooking?' that has been designed to promote a positive attitude towards healthy eating in families. This initiative promotes basic cooking skills that are suited to all members of the family, especially in response to the findings that children of overweight parents are far more likely to remain overweight themselves and go on to have overweight children in the future, creating an unhealthy culture.
Healthy Eating in Schools
Many schools are also keen to promote healthy eating. With television programmes featuring celebrity chefs, particularly Jamie Oliver's one man crusade to bring freshly prepared meals into schools, highlighting the fact that many schools, especially primary schools, do not even have the kitchen facilities to prepare fresh foods, it is clear that large numbers of the UK's children do not know what healthy eating even means.
Cooking with kids, therefore, is largely about getting them interested in food and where it comes from. To see fresh fruit and vegetables, good quality meat and unusual ingredients and get excited about what you can make with it, rather than thinking food is something that comes from a packet or a polystyrene carton. Cooking clubs for kids are a great way to give them the building blocks for a healthy future and there is plenty of information available from these organisations, and many others, to help new clubs get started.
You might also like...
hello,how can i do an application form for volunteering?
Lulu
- 24-Dec-12 @ 4:00 PM