Working with Children Through Cross Community Groups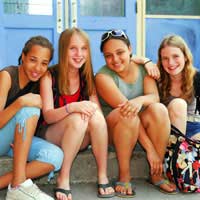 Cross community groups are designed to bring individuals from different cultures, faiths, backgrounds and ideals together under the umbrella of peace and mutual understanding. In addition to uniting sections – and cross sections – of the community that may not normally interact community groups also try to enhance and cement relationships between these very different parts of society through play, learning and creativity.
These groups aim to bring distant elements of society together in order to break down barriers and encourage communication and constructive friendships as opposed to hatred, gang mentality and racial and religious bigotry.
Who Runs Cross Community Groups?
Youth clubs, police clubs, local community groups and church groups are most likely to run Cross Community Groups and activities. That is not to say however that you – as an individual with the right backing and support – could not start up your own Cross Community Group in your area if you felt there was a place for such an organisation.
Cross Community Activities
Many Cross Community groups will encourage activities to take place with the participation of as many different races, religions and backgrounds as possible in order to promote social interaction. It is a common fact that many children and teenagers today do not interact with children other than those within their immediate area such as their school or the radius around their home. Cross Community groups attempt to widen the scope of children and teenagers social interaction and encourage other children from other areas to visit and take part in activities such as football, rugby, hockey, arts and crafts, drama groups etc. It is hoped by encouraging these children and teenagers from varying economical, social and religious backgrounds to come together and engage in activities together that friendships might be born and bigotries dissolved.
Many of the activities undertaken by Cross Community Groups are undertaken with the emphasis on team work and team building; it is hoped that by engaging children and teenagers in team building exercises with children and teenagers from other areas that barriers can be broken down without there being an emphasis on this process.
Who is Eligible to Join a Cross Community Group?
Any children or teenager can be part of a Cross Community Group and indeed this is encouraged whole heartedly. Children who actively wish to participate have been found to enjoy the experience more and have come away from it having not only made new friends but also gained an understanding into the cultures and ways of life of those other children and teenagers who they might not have interacted with without the aid of a Cross Community Group.
Can I Volunteer to Help My Local Cross Community Group?
Cross Community Groups – just like Community Groups and Youth Clubs – are always on the look out for volunteers to spare some time during the course of the week or at weekends. Indeed more so during the summer months and during all school holidays volunteer help is needed as resources can be stretched depending on numbers and what events are planned.
As with all organisations that are involved with looking after and caring for children, your local Cross Community Group will require that you undergo a Disclosure and Barring Service (DBS)check and as is always the case with such a disclosure, you will not be able to commence volunteering until the disclosure has been submitted to the Cross Community Group.
You can also volunteer your services as a fundraiser as these groups are sometimes poorly funded and receive little if any financial help from local councils or Local Education Authorities (LEAs).
You might also like...
Hi. We are currently in the process of setting up regular art workshop aimed for children aged 5 to 11. My partner is a fully qualified arts and design teacher and I am a teaching assistant. We would like information on ratios for classes , any insurances we require and if all staff require a DBS. Any other information you have , would be greatly recieved. Thank you. Kind regards Margaret Howe
Arty vlub
- 6-Nov-19 @ 8:39 PM
Hi, I am thinking of a family day out , for parents and children in our area, and may be have some outdoor activities on the day. Was thinking of hiring a guide to help us with the activities- hiking, map reading etc . What sort of legal requirement we will have to fulfill to arrange such a day out? What requirements does the guide have to fulfill? Thanks
Rujuta
- 17-Jan-18 @ 8:25 AM