Creches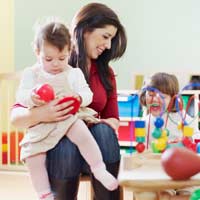 Crèches are designed to help - where possible - the problems of finding child care for parents who are in part-time work, full time education, retraining or who simply need time to themselves if they are a lone parent and have no other source of child care to fall back on.
What are Crèches?
The idea of Crèches is that a number of specially trained adults will look after a designated number of children in a conducive and child-friendly environment for a set number of hours per day. These hours are normally in the morning.
Crèches are designed so that their group numbers are never about twenty-six and this is so the adult to child ratio is maintained at around six children to one adult.
The average age range for children attending a crèche is between one and eight years of age and the adults responsible for the care of the children in their charge must be fully checked and accredited by the Criminal Records Bureau who will issue a disclosure.
This in itself is nothing to worry about if you wish to work in a crèche; the DBS disclosure is something that all employees are now asked for and is merely another form of checking suitability for both employer and employee.
Qualifications Needed
A recognised childcare qualification is also an advantage.One of the following would be preferred if you wish to work in a crèche:
B Tech Diploma in Childcare
NVQ Childcare Level 2 or 3
First Aid Certification
Basic Food Hygiene Certificate
Child Protection Certification
What the Job Involves
If you are successful in finding a job in a crèche you may wonder what your duties may entail.
For the most part you duties will be to supervise and oversee the well being and physical safety of those children under your care. You will be asked to provide them with fun and interesting tasks to perform and games to play which may include painting, drawing, reading, singing songs, making things and a whole range of other activities designed to stir up the creativity and imagination of a young child.
A distinct advantage is an understanding of children and their psychology. A child left on his or her own with strangers can be a child prone to distress and temper tantrums and it is up to you as a member of the crèche team to be as patient and comforting with that child as is possible - almost assuming the role of a mother figure for the time that their mother is not around.
Many companies now offer on-site crèche facilities in order to reduce the amount of time employees have to take off as a result of problems with childcare.
A great deal of companies who have their origins abroad find that having crèche facilities in their factories and offices here in the United Kingdom actually increase productivity and reduce absenteeism as well as cementing the bonds between parent and child if they can spend more time together than would normally be the case.
Many companies offer this service free of charge but some - albeit a small number - ask their employees for a small dividend from their monthly salary to go towards the upkeep of the crèche and also the salaries of those staff who must be especially trained in order to run the crèche.
As an individual you may wish to start up your own crèche, which you are perfectly entitled to do. But in order to do this you must possess the aforementioned childcare qualifications and have a base of operations, which is conducive to the looking after of children over lengthy periods of time.
If you feel you wish to enrol your child in a crèche or indeed might like to start up your own you can consult your local council or Local Education Authority (LEA) who will be able to provide you with information on the list of Crèches in and around your area as well as the list of regulations and checklists that must be met in order to set up one's own crèche.
You might also like...
I need to know where to get funds in order to obtain this qualifications as am interested
Rele
- 10-Oct-20 @ 2:13 AM
I would like to open my daycare center but i don't know what exactly started.I have level 4 qualification and also have one year experience.can you please assist me where should I start
Cebo
- 14-Mar-20 @ 12:10 AM
I would like to open my crech this year.i did level 4 and first aid course.i did try to register bt i don't know now what must i do because I never recieve any report back since last year e.g. massage from social service here in cape town aslong i building my 3rooms for a crech.i need help any help now crech in my area.i thank you
Hi all im a advocate for children in care and I'm looking at expanding my connections within the fostering sector. I work on 2 fostering panels I also share my care experience with a fostering agency at the moment. is there anyone on here that would like me to support/offer any of my services to your business or may be there are carers on here who would be kind enough to connect me with social workers they work with. look forward to hearing from you soon Sarah
sarah
- 23-Oct-19 @ 12:23 PM
Me and My husband are Foster Carer , and have a child in our care. I want some other work with children based. Please help me
Hina
- 27-Apr-19 @ 2:43 PM
Hello I would like to open a creche from 6months to 4years what do I need to have as qualification, I have back bedroom so I wish to change this rooms into creche and to help mothers like me for their children so I would like to take care of them 24hours. Thnx
manozi
- 2-Mar-16 @ 2:08 PM
my child is in full time school but doesn't get along with any of her teachers is there any recommendations for my needs?
sab
- 14-Jan-16 @ 10:58 AM
I have done the childminding course a few years ago and have the cashe cce qualification. Worked in nurseries. Schools. Inchildren's clubs done the relevant first aid I'm currently a reliefproject worker (weekends) have my crb anddrb (think it's called the latest one) is this enough to start up would be maximum of 2 hours per child a day . can you tell me do I have the requirements.
kerrie
- 8-Dec-15 @ 8:56 PM
well im thinking about putting my child in full time school as my job it 6hours 5times a day but I am not sure what school is best for her needs.
amy
- 10-Sep-15 @ 11:07 AM
@julie - you would have to apply directly to one of the colleges in your region in order to find out the best course for you. It also depends on the course you choose as to the length of the qualifications, as the courses may vary slightly from region to region.
WorkingWithKids
- 14-Jul-15 @ 11:03 AM
could you get any of these qualifications to work in a creche in belmullet, co.mayo, ireland?? Also how long would it take to get your qualifications??
julie
- 11-Jul-15 @ 9:51 AM
Hi thereI was a foster carer untill last year when i gave it up because i was diagnosed with osteoarthritis in both my knees. I am now on regular strong painkillers which seem to be working at the moment. the problem is i am now bored and feeling stagnent doing nothing. I have been thinking recently about going back to fostering agin but not as i used to do i was thinking about maybe turning my home into a respite home and offering regular respite to children with disabilities as I have a 24 yr old disabled daughter so i have lots of experience as i have brought her up on my own and my two other daughters have flown the nest now as they are grown up and have families of there own, the problem is i dont know where to start and what to do does anyone have any suggestions
lolly
- 21-May-15 @ 11:19 AM
Hi there I am a registered childminder and hold the following qualifications, payed first aid, food hygiene, safeguarding children and the Diploma in home based childcare. I would like to open a crèche in my local area. Can I manage this on my qualifications? What do I need to know? Thanks
heya just wondering i would like to work in a creche or run my own i have a medium tatoo on my forarm with family with a butterflyare people that work in creches allowed have tattoos
jackie
- 11-Jan-15 @ 11:21 PM
I studied primary school education in Germany and finished with the first state exam. I am now wondering if this exam is enough qualification to work in a Creche in Ireland? Does anybody have a contact number where I could ask whether this qualification is enough? Does is vary from Creche to Creche?
Franzi
- 15-Jun-14 @ 3:24 PM
hya i just passed my level 3 teaching assistant and was wondering if this would qualify me running my own creshe or working in one. Thought it be a good idea to open one around my area because of all these cut backs in schools in the future.
yes you do need the doctors information because if the child gets hurt feels sick and you cant get in contact with the parents you need a signed file to say your allowed to take them to the doctors
carol
- 3-Oct-13 @ 2:05 PM
I am thinking of starting my own creche but i dont know much about starting it up. I am thinking of doing 2 hours a day only where parents are aloud to leave their child or children if they are staying in the local area. Will i need contact information from parents about their doctor?
maria
- 10-Oct-12 @ 8:23 PM