Helping Children with Low Self-Esteem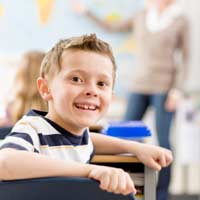 Many people fail to comprehend the notion that some children suffer from low self-esteem. Children are seen as lively, care free individuals with the world at their feet but unfortunately for some children, taking into account their backgrounds, this is simply not the case.
How to Identify a Child with Low Self-Esteem
It is remarkably easy to spot such a child, especially in the school environment. Many children will be chatty, outgoing, always laughing and eager to participate in group tasks as a means of proving themselves. Children who are low in self-esteem tend to shrink into the background and do not to be asked questions or to be included in group activities as they feel they are not worthy.
A child with low self-esteem will initially come across as being shy and you will often find that talking to them produces little in the way of constructive conversation. A child with self-esteem issues or low self-confidence will often consider what they have to say as being meaningless and as result will often keep their answers to simple yes or no answers, thus avoiding feeling stupid. It is worth noting that it is only the child who thinks that are being stupid and not those around them asking the questions.
A child with low self-esteem will also fail to produce the work they are capable of producing simply because they feel – just as they would if asked to answer a question – their work is not of a standard worthy of any praise.
Dealing with Children with Low Self-Esteem
It is not always easy trying to deal with a child suffering from low self-esteem. It is important to note that from the outset. This is of course not to say that you cannot; it is simply pointing out that it can take time to make a connection with them.
Children who feel as though they have nothing to contribute will often avoid conversations with adults as well as other children, fearing that adults will ridicule them or consider their input to be worthless.
It can take time to get through to such a child but it is worth persevering.
Try engaging them in a subject they enjoy; if they enjoy art then why not suggest they draw something for you? Likewise if English is their forte why not encourage them to read a book that you can engage them in discussion about?
Low self-esteem in children manifests itself in the same way as it would in an adult, with confidence in their own abilities at a low all the time. The important thing is to try and encourage them out of their shell with subjects and hobbies that are of interest to them.
Self-Esteem in the Classroom
A child who has issues with their level of self-esteem and confidence will often find it difficult to be part of a group especially in a school environment. It is important that if you encounter such a child - either in a role as a teacher or learning mentor - that you do not draw attention to these issues especially where the other children are concerned.
Children – as we all know – can be very cruel and hurtful and can see another child with such issues as being weak and subject to ridicule: helping to maintain a positive balance in the classroom whilst addressing such issues is important but should be handled with care.
If you are a parent and are concerned as to your child's willingness to participate in group activities try speaking to their head teacher. Ask about their communication skills and enquire as to how they take part in lessons where discussion is a key requisite.
Likewise speak to your child and find out how he or she feels they are doing at school.
You might also like...
I am good at working with kids and I have done it before and I could teach them sign language
Foss
- 20-Mar-15 @ 11:48 AM