Teaching Ballet to Kids Keeps Me Fit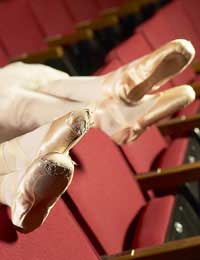 For most people, keeping fit is something they try to include as part of their life but it can be hard when there is work and family duties that have to come first. For Beth Goddard, 49, from Great Yarmouth, her job as a ballet teacher has helped her to keep fit for many years – while she's working!
A Career Teaching Ballet
Beth is a ballet teacher at the dancing school her mother founded over thirty five years ago and, as a trained dancer herself, her managed to build up into a successful business.
Beth told us, "My family has always been interested in ballet and my mother set up a small local dancing school when my sister and I were still at school. I've always enjoyed ballet but I was never going to be good enough to be a professional dancer, but when my mother suggested I take my teaching exams after A Levels I thought it was a great way to stay in the business."
She continued, "After completing my ISTD qualifications I started working with my mother; at first I was assisting in the junior classes and then after a couple of years I started teaching on my own. My mother continued to take the classes from Grade Four upwards, and I focused on teaching the lower grades, which tended to be children, mainly girls, from around three years old up to about nine."
Teaching for three full days a week, with extra hours for class preparation and business administration, meant that Beth was able to be at home with her own children when they were young, as most of the classes are held in the evenings when her husband Craig was able to look after them.
A Fulfilling Career
Beth added, "I've found teaching ballet to children to be a very fulfilling career, and one that has certainly been compatible with family life. One of the best aspects for me has been the fact that I've stayed fit and supple over the years. When many of my friends have struggled with their weight, I've found that mine has stayed stable – and I really love my food! I do gentle stretching even on the days when I'm not teaching, and on class days I get a great workout even though I'm not dancing for the whole class. I show my pupils each exercise, and as I teach for about four or five hours on those days, that's a lot!"
She continued, "I really value to fact that I've got to work with such wonderful kids over the years. Although there are some clichéd pushy ballet mums, most kids are there because they love ballet and they want to dance, so it's a really positive environment to work in. Sometimes I can find it a challenge when I work with someone who clearly has a lot of talent but they don't want to work hard, but I have to appreciate that for plenty of kids ballet is just a hobby – not an obsession like it is for me!"
You might also like...