Why I Love My Job as an LSA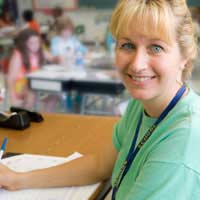 Working as a learning support assistant, or LSA, is a great way to enjoy the challenging environment of working with children in a school, without having to deal with all of the hassles that go with being a fully qualified teacher. Although some LSAs aim to continue their professional training to become teachers, for many it offers a flexible long-term career option.
Enjoying the School Environment
For Emma Drury, 29, from Norwich, working as an LSA gives her the perfect work/life balance. She explained, "After I finished my A Levels I couldn't decide whether or not I wanted to go to university, so I took a year out and starting working. I initially thought I wanted to work in an office environment, so I worked as a junior in a local solicitor's office, but I really didn't enjoy the atmosphere or the administrative nature of the job – I found it too restrictive to have to be behind a desk all day! After about nine months I was looking through the jobs on the local council's recruitment page in the newspaper and a learning support assistant advert caught my eye."
Emma continued, "I'd done work experience in a primary school a couple of years earlier and while I enjoyed the school environment, I actually found it frustrating dealing with young children. I know that probably doesn't sound very good, but I have to say it put me off working as a teacher! But the job I saw advertised was in a local high school – not the one I went too luckily! – and was working with pupils aged from 13 – 15 that needed one to one support. I decided to apply for it and I was asked to attend an interview."
Emma was able to perform well in her interview as she could talk about her experiences during work experience and her knowledge of the work place from the solicitors. She explained, "I was careful not to focus too much on what I didn't want to do, and made sure I said how much I wanted to work with young people. A core aspect of the job is to be an appropriate interface between the pupils and the teachers, sort of like an older sister role, in order to support them in lessons without making them feel uncomfortable. I think my understanding of the purpose of an LSA helped my interview go smoothly, and I was offered to job after another interview and a Disclosure and Barring Service (DBS) check."
Potential for Training Later
Now, Emma works from 8.30 to 3.30 four days a week and has one day with her son Jake. Unlike many teachers she is not required to take home much work at all and, although the salary is considerably lower than that of a qualified teacher, she has good job security and a flexible employer. She added, "My boss has said that I could go through full training to be a teacher at some point, and I may consider it when Jake is older, but at the moment I love the fact that I am working in a school and am learning about how the system and structure works while being able to essentially leave work behind at 3.30!"
You might also like...