Working With Kids With English as Their Second Language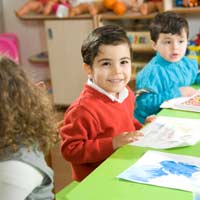 Working with children with English as their second language is a challenge, but it is also very rewarding.
Known as ESL, or English as a Second Language, there are many teaching aids and advice forums available to assist you. Indeed, as there are now large numbers of pupils across the UK with English as their second language, particularly in major cities, learning how best to teach ESL is a valuable addition to your CV.
The biggest issue related to teaching ESL is widely considered to be the fact that concentration and energy levels are difficult to maintain. The fact that this is hard enough with English speaking children highlights how much of a problem this can be with children that do not clearly understand what you are saying. Consequently, much of the advice offered to help ESL teachers is centred round these issues.
Don't Talk for Too Long
Teachers with pupils with English as a second language cannot rely on long lecture-style lessons. The concentration levels will drop quickly, leading to agitated and disinterested pupils. If you do need to use lengthy speeches, make sure it is interspersed with plenty of hand-outs, work sheets, projector presentations and so on.
Use Props
Using props is a great way to keep people interested in your classes or groups and this is especially true of pupils with English as a second language. This is very effective if you allow your pupils to get involved with the props so that they feel part of the class. You can use the prop to illustrate a point, use the white board to spell words related to the props and to keep attention levels up.
Promote Interactive Classes
Sitting listening to a teacher talk at you for an hour is no fun for anyone. Wherever possible, encourage your pupils to talk in groups or pairs, moving people around and joining in the different discussions. It's a great way to develop language skills without the pressure of having to speak in front of the whole class. Take care which pupils you pair up together, making sure that there is no possibility of the more shy ESL pupils being teased if they make a mistake.
Use Real Life Examples
Although you don't want to make your ESL pupils feel uncomfortable, asking them to talk about their real life experiences that relate to your subject matter is a really interesting way to develop their language skills. If appropriate, ask them to say the word in their first language, or encourage them to share their own interpretation of the English language. Anything that gets your pupils talking in an open forum is to be supported.
Lots of Praise
Perhaps the most important element in teaching children with English as a second language is to give them lots of praise. Don't be too concerned with grammatical excellence at first. If the ESL child feels like they are making progress and that they are able to try different words and meanings, they are far more likely to make quick progress.
You might also like...
Janu - Your Question:
Hello am really interests to work children home and I have experienced on Chinese children care in Malaysia
---
Our Response:
If you are based in the UK, the the site Do-It may be able to help you further, please see link
here
where you could sign up to volunteer in the first instance. If you wish for a career working with children please see National Careers link
here
which will tell you what qualifications you will need.
WorkingWithKids
- 27-Jul-16 @ 10:18 AM
Hello am really interests to work children home and i have experienced on Chinese children care in Malaysia
Janu
- 26-Jul-16 @ 12:02 PM