Working in a Church Group for Children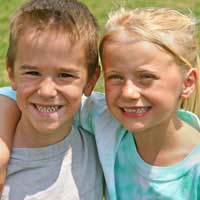 Church groups for children provide children with the opportunity to combine learning about their religion, socialising with other people in their community and interacting with adults.
Initially church groups were designed for those children of families who attended church regularly but over the years this trend has reversed so that children of mixed denominations and faiths can come together and interact and learn from each other in an environment far removed from social and economic taboos.
Church groups are normally led by volunteers who are usually themselves members of the church and these groups can vary in size and age group. You'll find several different types of church groups which involve children:
Choir Group
Young boys, girls, men and women, join together to sing. The choirs can go on not only to entertain their local communities but if they are good enough can go forth to represent their communities in nationwide events.
Holiday Club
As the name would suggest this club normally operates during the summer holidays to provide the children and teenagers with a place to go where they can engage in friendly activities and interact with people of their own age. This is especially useful in areas where community groups or community centres are not funded or available.
Youth Groups
Usually aimed at young people from 11 to 16 years, these youth groups are designed to encourage interaction between people of different religious and social backgrounds in addition to encouraging discussions about religion and faith.
Children's Book Clubs
Aimed at those children and pre-teenage years who like to read and enjoy the company of others. These book clubs encourage children to read in the presence of others as well as on their own and also encourages them to expand their literary horizons and perhaps explore their own creative interests such as poetry, writing and painting.
Mums and Tots Groups
Normally held one morning during the week, this group, which goes by many other similar names give mothers with pre-school children a chance to socialise while their children play and interact with others of a similar age.
These church groups are run by volunteers whose sole aim is encourage those people in their community to get to know each other and to find common ground upon which to build friendships and also to build a community that can support itself both emotionally and spiritually.
If you are interested in joining your local church group or have a child who you would like to join then you should - in the first instance - contact your local parish priest or minister or parish councillor who will have all the details on how to join and what you yourself can do to volunteer.
Your local church community group should also distribute bimonthly or quarterly newsletters letting you and everyone else in your community know what events are taking place.
You might also like...
I love working with kids neaver done it before but I would love to work with kids
john boy
- 19-Oct-16 @ 9:13 PM