Working in Respite Care for Children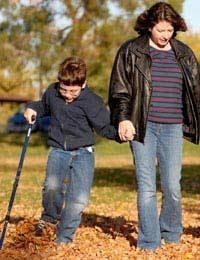 Respite care is care that is provided to families who have sick or disabled children and who care for them around the clock. Respite care gives the parents or carers the opportunity to rest and enjoy a change of scenery for a short time while trained support staff assist with the day to day looking after of their children be it in their own home or in specially equipped respite homes. Respite care can range from one evening a week, to one weekend in a calendar month.
There are many respite schemes running up and down the United Kingdom but as with all charitable organisations and schemes more funding and volunteering is needed to ensure that more families get the benefit.
Short Break Schemes
Short Break Schemes allow registered and trained carers to be paired up with disabled children in order to allow the family free time or flexible hours in order to do things for themselves. In some instances children can go and stay in a specially equipped unit where they can enjoy many activities they might not be able to participate in at home. This also gives them the opportunity to interact with other disabled children and to enjoy a certain amount of independence.
The majority of children who benefit from respite schemes have severe learning difficulties and/or physical disabilities, very particular medical requirements or may even be terminally ill: whatever the nature of their condition there will be caring staff on hand to offer support and friendly interaction throughout their stay.
Can I Become a Respite carer?
Anyone can become a respite carer; respite carers come from all walks of life, all age groups and all religions. No one is excluded from the opportunity to become a respite carer.
Respite carers - upon acceptance - are trained to the necessary level and - as with all positions involving children, are required by law to undertake the provision of a Disclosure and Barring Service (DBS) check. This check is designed to screen those candidates who wish to apply and make the process as quick and secure as possible.
A respite carer may be required to spend one day a week with a child, one night a week or one weekend per month depending on the nature of the respite care required. In addition they will be required by law to undergo ongoing training and are at all times provided with support from a 'mentor'.
Many carers initially come to respite projects with no formal training - and do so out of a desire to provide help and support to others living and coping with difficult circumstances. However as they progress they are given recognised training and guidance and often become almost part of the family.
You might also like...
Hello I have worked in a special needs school for 21 years I also look after young adults outside of school I have a lovely home and would love to do weekend and holiday respite for young children an adults please get back to me asap
Hi I'm interested in become a respite career what Qualifications do I need.
Natalie
- 15-Sep-20 @ 2:39 PM
Hi. I am interested in becoming involved in children's restbite care. I am a retired teacher and have experience working with special needs children. Please could you contact me with details of any necessary training. Thank you.
Shaz
- 16-Jun-20 @ 1:32 PM
Hi I am teaching at a sen school with 18 years of experience. I wold like to offer respite at the weekends and holidays. I am also a PA for a sen child. How do I go about getting my name out there. Thanks marie
Marie
- 17-Feb-20 @ 3:25 PM
Hi I am interested in providing respite, I have year's of experience working as a support worker(for the middle age group) , but would now like to offer my home or services towards respite. But I have no idea who or how to move in to this. Can you advise please.
Jules
- 13-Jan-20 @ 1:43 PM
i'm looking for more information, i have experience with SEN, working in different schools. my child also has ADHD so i no how hard it can be looking after a child with disabilities, but every child deserves best life they can, and to achieve goals no matter what they maybe. And for parents to rest look after there selfs to. so i like if i can achieve my goals help children and parents.
tara
- 18-Sep-19 @ 9:08 PM
Hello I currently work at a centre called hop skip and jump , providing respite day care for children and autism and special needs. I am interested in potentially becoming a respite carer outside of work too from home. I live in a 2 bedroom house with my partner and 2nd room is currently a spare room until we have our own in the future. I would love some more information and advice.
Cam
- 20-Aug-19 @ 10:09 PM
I work in a Special Needs school as a Teaching Assistant and also work as a Support Worker where I do Befriending for families. I would love to get involved in providing Respite Care or Emergency Care for children. Please can I have more information. Many thanks Marie
Marnie
- 16-Aug-19 @ 7:22 PM
Looking for a care home for their child 17years old male
Kay
- 13-Aug-19 @ 1:51 PM
I am currently a foster Carer with a background in care in local hospital. I am interested in providing respite for children with additional needs, and would like some information please. Kind regards .
Mount pleasant
- 2-Oct-18 @ 1:57 PM
Im currently a support worker for adults with learning disabilities in their home i have worked with children also i am really keen to get into resbite care but do not know which route to follow.
Aims
- 29-Sep-18 @ 9:00 AM
I used to be a Carer Support worker for Crossroads care when I used to give respite care with adults & special needs children.I am interested in doing part time work as a part time support worker with children in their own homes. How can I apply for a position?
Can I have some info on overnight restbite, I'm intrested in become my a carer for this
Kaz
- 23-Feb-18 @ 7:48 AM
Hello, im looking into restbite car for days and over night.. im a support worker at the moment for adults with learning disabilities at a day centre. I have my nvq 3 in health and social care and have done my training for most care things including autism, safeguarding, first aid
Laila
- 8-Apr-17 @ 7:16 PM
Hi lots of experience with children eith special needs and sensory loss. Looking to work as a career. Who would I contact?
Gina
- 13-Feb-17 @ 4:11 PM
I am currently a level 3 qualified Ofsted registered childminder working from home. I have a sensory/play room, large lounge and seperate dinning room. I am considering offering respite care including overnight care. What other qualifications do I require? I have been trained to peg feed and have hands on experience with children with Epilepsy, developmental delay and Autism. Would it simply be a case of getting relevant training as and when required for individual children and keeping up to date with Paidiatfic First aid etc. Many thanks
Sam
- 21-Jan-17 @ 5:15 PM
Hello,I am looking to gather some advice on how my partner and myself canoffer respite care to parents with children who have disabilities.Our own daughter was born at 27 weeks and required that bit more attention than her twin brother and my partner and myself would very much like to offer our help and experience to parents and children as we have built up substantial knowledge in medical appliances used at home,feeding alternative for babies/children with minimal suck or swallow reflex,feeding by bolus feed and pumps etc etc. We are grateful for any advice. Thank you.
Fife
- 4-Apr-16 @ 10:50 PM
I have always loved children and they love me, I like to give them quality of life. What children want most is to be loved by the people who care for them. The simplest things can make them happy. They want to be listen to and understood. I appreciate the efforts children make. I have looked after children with allergies, asthma, excema, cerebral palsy, blind, deaf, dumb. I would expect destructive children to be on medication, such as, hyperactivity disorder, attention deficit. I have looked after well behaved children with down's syndrome and autisim. I couldn't look after older children that were strong, disobedient and violent.
barby
- 2-Jan-16 @ 10:03 PM
I was looking to volunteer in any capacity. My youngest child Ava who is 5 and recently diagnosed with ASD is going to school in August. I've spent the last 3 years supporting her and now she's going to be at school most of the day so I would like to use my free time supporting someone else in need.
Kayleigh
- 4-Aug-15 @ 8:45 AM
I would be very interested in knowing more about respite care,in the past I've worked with children for many years and have various qualifications to level three and for the last 18 months I've been working at a care home with young adults that have epilepsy and autism. Please could you send me some information on how to become a carer. Thank You
Andy
- 15-Jul-15 @ 11:15 PM
@Jo - I suggest you have a look online directly for respite care jobs in your area, if you want paid work, as you certainly have the right credentials. If you want to work voluntarily you may want to look on the Do It site via the link
here
. I hope this helps.
WorkingWithKids
- 20-May-15 @ 12:20 PM
Hi I'm a part time GP with a lot of experience caring for children with disabilities. I would love to do some regular respite care in Wiltshire/Somerset.How do I look into this? Thanks.
@Gems - if this is a radical change in career, then perhaps volunteering would get you on the right track initially. Or as specified in the article many carers initially come to respite projects with no formal training - and do so out of a desire to provide help and support to others living and coping with difficult circumstances, so it might be just a case of applying for a few respite caring jobs and working from the basic skills up. However, if you are volunteering at the same time then you will be taken more seriously. You will need a DBS check in order to work with children and young people.
WorkingWithKids
- 11-Mar-15 @ 12:38 PM
@newcomen5 - as specified in the article many carers initially come to respite projects with no formal training - and do so out of a desire to provide help and support to others living and coping with difficult circumstances. However as they progress they are given recognised training and guidance and often become almost part of the family. I suggest you perhaps begin by volunteering and see how you go from there. I hope this helps.
WorkingWithKids
- 10-Mar-15 @ 2:40 PM
I am looking for a change in career & would like to know how I could get into respite care for children & young people. Any information would be a great help. Many Thanks Gemma
Gems
- 9-Mar-15 @ 6:14 PM
Hi I would love to be a rest bite carer for autistic and adhd kids. But I don't have any college N.V.Q level, and I don't have a degree. I would love a change and try to get into this feild of work. I may not have the qualifications of certificates but on a personal level and real life exspirence I have loads.......I may be coming from a very different work background,but I know this is what I want...kind regards Craig
newcomen5
- 8-Mar-15 @ 11:46 PM
I am 58 divorced. I live alone in a large 3bed house I have been a carer looking after physical disabled children and adaults for over 17 years and I'm seriously thinking of a change . I would love to know more about rest bite care at home . I do have my NVQ s in care
Lorrie
- 14-Jan-15 @ 1:22 PM
Hi, I'm a 42 year old male, with 10 years experience in carestandard, woking with adults and children with learning and physical disabilities. I am now wanting to start up my own respite service but have no clue where to start please can you point me in the right direction
samuel Morris
- 11-Jun-14 @ 2:54 PM
I would very much like to offer respite to a family with a disabled child. How do I look into this.??
Teena
- 28-Jan-14 @ 7:06 AM
Hi I am a 42 single female who has been a respite carer for 8 years with Foster Care Associates now called Core Assets. I would usually do weekend respite as I work fulltime. Due to me taking in a lodger I can see that my circumstances have changed so would now like to persue being a respite carer where I spend either specified hours with a child at weekends to give a family a break. My lodger is with me fron only Mon to Fri only which is the change to my circumstance.