The Scouting Association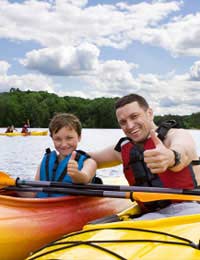 In 1907 Sir Robert Baden-Powell formed the Boy Scouts. Originally the Boy Scouts was solely for boys, but it has now embraced the idea that girls want to join and around 10% of its members are now female.
The scouts are made up of the following groups:
Beaver Scouts
Cub Scouts
Scouts
Explorer Scouts
Beaver Scouts
The beavers are children between the ages of six and eight who meet in groups or 'colonies' as they are known. Beavers usually meet once a week and play games, work towards their activity badges and have occasional trips to interesting places or short camps.
Cub Scouts
Boys and girls between the ages of eight and ten and half can join the cub scouts who meet in what are known as 'Cub Packs'. The cub scouts engage in activities such as camping and outdoor adventures and working towards interest badges.
Scouts
Between the ages of ten and 14 children can join the Scout movement. The scouts are made up of 'Troops' of ten and are invited to take part in challenge award schemes. These schemes can include anything from Abseiling, camping, swimming right up the scale to the more adventurous pastime of Zorbing (this is where the individual climbs inside a transparent sphere and is rolled down a hill).
The scouts encourage friendship building and also engage their members in issues relating to the world around them. This helps to prepare them for life beyond their teens. One of the most important aspects of being a scout member is the outdoors. Scouts will spend a lot of their time experiencing the great outdoors and various aspects relating to the outdoors such as camping – as we have already mentioned – swimming, canoeing, yachting and learning to fend for oneself in the great outdoors.This is very important and is where the motto 'Be Prepared' stems from.
Explorer Scouts
As a member of an explorer scouts troop you and the others around decide what activities you wish to take part in. These can be anything from white water rafting to mountain climbing. Each of these activities carries with it it's own badge and these badges are given on completion of a task and also for showing enthusiasm and dedication. The highest award that can be achieved whilst in the explorer scouts is the Queen's Scouts Award which many employees now recognise.
Overall though the scouts are designed to promote positive interaction between children of all ages regardless of sex, colour or creed and also to instil in them a sense of achievement.
At the age of eighteen you may join a scout network where – up to the age of 25 – you can take part in a whole host of activities and participate in the Duke of Edinburgh's Award scheme, which employers also now recognise. Some members of these networks go on to become Scout leaders and provide valuable leadership qualities for those younger than themselves.
The aim here is to provide all with a platform for learning and confidence building whilst having fun and meeting new people. This is one of the reasons why the scout movement is still one of the most popular one hundred years after its initial inception.
You might also like...