POCA: Implications for Instructors and Members?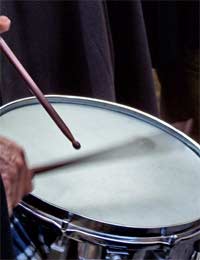 Q.
I help run a weekly community drumming group. We have approximately 50 members, all of whom are adults. Recently a 15 year old came along under the supervision of an adult.
Do we now fall under the POCA? If the supervising adult cannot be there what are the implications for the drumming instructors and other members of the group?
(Dr Adam Watkins, 15 October 2008)

A.
Thanks for your question and concern about how your group is affected by the Protection of Children Act (POCA). Under the terms of the POCA, all organisations which are involved in the care of children in any way come into it. Although your group is not primarily a care organisation, the POCA also has a section dealing with other organisations, such as voluntary groups or leisure groups where children join in with activities. It sounds like your drumming group would come under the terms of the other organisations.
The official guidance says that, "Whilst the provision of the Protection of Children Act 1999 are not made mandatory for these organisations [e.g. the 'other organisations as mentioned above], it is the Government's hope that they will make referrals to the scheme. This is to ensure that they provide a comparable level of safety to children in their care as that offered within the regulated child care sector."
So, although it may be a bit frustrating that you only have one child currently attending the group, and that there may even be a supervising adult with that child some of the time, it would be advisable to take the terms of the POCA into consideration. Most of all, this will add the reassurance that you're covered and have gone by the government rules, plus it will mean that you could potentially have other children attending the group at a later time, should you wish.
Under the POCA, anyone working with children now needs to undergo a Disclosure and Barring Service (DBS) check, whether they are a paid employee or voluntary worker for an organisation. This will check their background and provide information about whether an individual has a criminal record or a criminal conviction. In this instance, it would be advisable for the drumming instructors to undergo a DBS check. Assuming the results are all fine, you will then be able to offer reassurance to the parents of the child who attends that all necessary checks have been made.
If the adult who has been supervising the child when attending the group can't make it then, due to the age of the child, it would be advisable to have someone on hand – who has been DBS checked – to step in to the supervisory role.
You might also like...
Hello,I am an circus artist with 25 years experience and I would like to open a circus school or a circus workshop for children's , can you tell me what certification I need? Thank you!
Simona
- 19-Jun-19 @ 4:54 PM
I am starting a holiday club for kids.....art and craft activities. Please could you advise what policies I need and any other requirements thank you
wendiwobble
- 4-Jul-15 @ 8:28 AM
@Lindsey - I have included a link about what will be included and how you can get copies of your police records.
link here
. You can also contact the customer disclosure line via Gov.uk if you need to speak to someone directly
link here
.
WorkingWithKids
- 28-Nov-14 @ 10:59 AM
Should a child be placed on the Child Protection Register, but the single parent NOT convicted, and child due to come off CPR now also, will it show on parents enhanced DBS check?
Lindsey
- 27-Nov-14 @ 5:28 PM