Franchise Opportunities for Working With Kids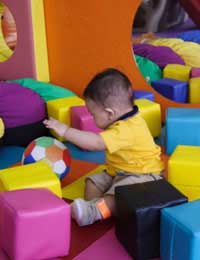 There are a wide variety of franchise opportunities available that involve working with kids, depending on your skills, investment budget and location. If you are thinking of taking up a franchise business in order to have more control over your work/life balance and perhaps a greater income, working with kids is often a good idea because the businesses involved usually operate in term time only.
It is a good idea to attend a freelance trade fair before you commit to spending your hard earned money on a franchise business as this will give you the chance to speak to a number of potential franchisors. Take plenty of time to gather information and research your target market before signing on the dotted line. Don't assume that a taking on a franchise is easier than starting your own business, especially when you factor in the start up costs and terms of business. Remember that all franchisees working with children will be required to complete a CBT check and certain skills, experience and character types will be better suited than others.
Here are three profiles from some of the UK's most popular franchises for working with children, covering a cross-section of the opportunities available.
Kumon Maths
Kumon Maths has become terrifically popular as an after-school activity for parents that wish to support their child's maths development. The Japanese method promotes 'no limitations on learning to help children flourish' and daily study. Although sometimes criticised as a 'hot-house' activity for the children of pushy parents, Kumon Maths has over four million students worldwide and offers a reliable franchise opportunity.
With start up costs of around £4k - £5k, Kumon is one of the lower cost franchise start ups, with the fee including all teaching material and training and marketing support. The maths classes are held in local community centres, church halls or libraries with children attending one class a week. Kumon Maths is especially popular in middle class areas.
Tumble Tots
Tumble Tots classes are popular all over the UK and the brand is widely loved and recognised. Offering 'an exciting mobile play programme', Tumble Tots 45-minute classes provide structured active and physical play for children between 6 months and 7 years old in age-appropriate classes.
The start up costs for a Tumble Tots franchise is around £13k. Established in 1979, Tumble Tots classes are commonly found in libraries and church halls and offers a trusted franchise opportunity, particularly as the price includes a great deal of support.
Jo Jingles
Jo Jingles music and singing classes are gaining popularity across the UK. Offering confidence-building and independence-promotion movement, singing and percussion lessons to pre-school children, Jo Jingles has 100 franchises in the UK.
With start up costs of around £8k, which includes all initial training, regular updates, PR and accounting support and a local mentor, Jo Jingles is considered a relatively reliable franchise opportunity. Small classes are held in the day time during term time only and are found in sports centres, community centres and village halls.
You might also like...
i love Kids and I m interested in your class room assistantand what theirjobs involve
laaiou
- 3-Aug-19 @ 2:06 AM
I am interested in your class room assistantand what theirjobs involve