Job Opportunities in Kids' Parties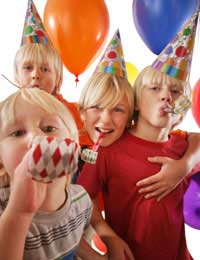 With more and more parents keen to provide an exciting birthday party for their children even though they are working full time, it seems like the opportunities for working with kids is increasing. In some affluent areas, kids' party organisers are doing a roaring trade!
So what types of jobs are available for people that want to work in the kids' party sector? There are both employed and self-employed opportunities – take a look at some ideas below.
Party Organiser
The popularity of wedding planners has rocketed in recent years and it looks like planners for other types of parties are going the same way. After all, there are loads of people that earn great money in their chosen career and want to please/impress their friends and family when it comes to hosting an event! Consequently, demand for kids' party organisers is on the up, so it's a great time to get started.
Working as a kids' party organiser is very well suited to being self-employed, and offers a good work/life balance as parties tend to be held at weekends. This means that you may need to arrange childcare at weekends though, although you may be able to have your children with you at some functions.
A great way to drum up business is to contact local babysitting circles as well as mother and toddler groups and primary schools. Of course, the best referrals come through word of mouth, especially with something as personal as a children's party, so it may be worth doing your first one for free for a person with a good network.
Entertainer
Working as an entertainer at kids' parties is great fun – but can be very tiring! Most entertainers will have a specific skill, such as face painting, sketching, making balloon shapes or waking on stilts…and probably more than one to keep them interested. You can set up a website to promote yourself and advertise on suitable sites like parent-focused social networking sites.
This job suits being self-employed, although you have to be as good at keeping your admin up to date as you are entertaining children! Unless you are in a very affluent area or are prepared to travel, it can be hard to make a decent living, but it is worth charging a competitive price to ensure you can build your business on referrals.
Party Venues
Parents of young children are increasingly turning to hiring out venues for their kids' parties to avoid the stress of having lots of hyped-up kids in their house and also to do something different to their peers. Consequently, venues such as soft play, play barns and animal centres are really popular for kids' parties.
It tends to work by charging a set fee per child which then includes food, drinks and entertainment. The price varies depending on the type of food offered (sometimes just a simple hot dog or sandwich, or alternatively a fancier buffet). It is very important to have sufficient supervision and insurance with these types of venues to so do expert advice.
You might also like...
Please I want to have an experience as a teaching assistant. I been to college for two years and I am a computer literate too. I really want to change job for a medical reason. thank you
nancy
- 3-Jun-17 @ 8:09 AM
Hello, I am looking for 3 days a week Monday to Friday paid work with children. I have a 13 month old or even if it's few hours a day Monday to Friday I could maybe commit to that?
Kim
- 7-Jan-17 @ 11:05 AM
I am looking for full time job opportunities in kids entertainment i am based in Surrey and i was wondering if anything was available. Thankyou
liv
- 2-Jan-16 @ 12:56 AM
I hereby seek for the position ofa Teaching Assistance in your organization.
none
- 13-Jun-15 @ 4:27 PM
Iam look for full time jobs opprtunities kid,s parties jobs to day Adau say.
Rebecca
- 18-Apr-15 @ 2:23 AM