Family Support Services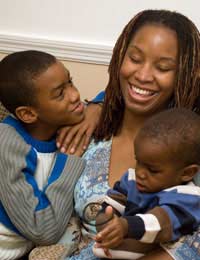 Family Support is a means of providing help and assistance to families – or indeed parents – who are experiencing difficulties within their home environment or in their lives in general. We all from time to time need help and advice and Family Support Services are on hand to help.
Family Support can provide help and support when it comes to:
Single Parent Families
Families with disabled children
Families on Low Incomes
In additional Family Support services can help with advice and support for first time parents or first time mothers who are on their own, counselling services for individuals with varying addictions and even Anger Management classes.
Do I Qualify for Family Support?
Family Support services are often charity run institutions so funds are limited and therefore in many instances each individual case is means tested. That is not to say that you will not qualify for assistance but it is important that when you are asking for assistance you provide as much information as you can. Family Support services – as we have already mentioned – are normally charity run but some districts do have council-funded and staffed Family Support units. These units again offer advice and assistance to those who need it as well as drop in centres, toy libraries, and counselling groups. Again you may find that if you seek assistance from a council-funded Family Support unit you may be means tested but again this does not mean you are not eligible.
Everyone is eligible for help and assistance from these Family Support units but you should be aware that because they are run primarily on charitable donations and the hours given by volunteers that not every case can be answered immediately.
Other Services offered by Family Support
The various Family Support units in operation up and down the country offer a wide range of additional services for those who may need them.
These include
Befriending
The opportunity to spend time in the company of an independent impartial person who will listen and offer advice or you may simply wish to speak to in order to share your concerns or problems.
Training
Specialist courses are offered – at a nominal cost – for anyone who is engaged in the caring for of children. These courses cover a wide range of topics including how to spot the signs of emotional and physical abuse, child sex abuse, and other issues concerning the welfare of children.
Bullying Self-Help Classes
These classes are designed to give you as a parent or individual charged with the care of a child the opportunity to learn how to identify the signs of bullying and also learn what steps to take to combat the problem especially within the school environment without making the problem worse.
All of these courses are again available to all and because they are funded by charging a nominal fee these courses are more likely to be available to a larger number of people.
Can I Help Family Support?
Anyone can offer their time freely to any of the Family Support units up and down the country. As we have already mentioned these organisations are – for the most part- run and financed by charities so the donation of one's time as a volunteer is a very precious commodity.
If you wish to volunteer your services to your local Family Support unit it is best in the first instance to contact your local branch of Social Services who will give you all the information you need.
Again it is worth noting that because some of the work involved may include working with children or people categorised as being vulnerable, a check from the Disclosure and Barring Service (DBS) is necessary before any undertaking of assistance can be offered.
You might also like...