Dealing With Difficult Parents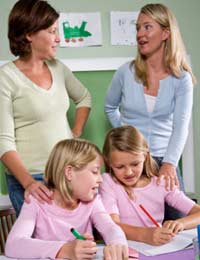 It's all well and good to say 'working with kids', but really, you're working with parents too. And parents come in just as many shapes and sizes as kids do!
Dealing with difficult parents is part and parcel of working with kids and, in order to be as effective in your job as possible, it's worth looking at some of the most common types of difficult parents and seeing how you can try to improve your relationship with them.
Unrealistic Parents
Many parents are unable to see the problems or difficulties that their children have, especially when they are behavioural issues that make them hard to deal with. Consequently, these parents can be in denial about the help that their child needs and your role in providing it.
However, you do need to be able to communicate with these parents, without raising their unrealistic expectations or underplaying their child's issues.
In order to deal with this type of difficult parent, it is important that you do not 'blame' the child or use any potentially frustrating language that highlights how unruly/problematic/under-achieving the child can be.
Aggressive Parents
It is very hard to deal with aggressive parents, especially as it often serves to highlight how the child may have learnt their own behavioural issues. The key to working with these parents is to be approachable and relaxed. If you 'look down your nose' at these types of parents, it will often exacerbate the problem as they, understandably, feel patronised.
You will need to work hard to build up a trustworthy relationship, but once you do you will find these parents often care deeply for their children.
Unsupportive Parents
Unsupportive parents are the type of parents that allow their kids to eat a bar of chocolate for breakfast on their way to school, or let them have a day off school just 'because they wanted to'. It's really difficult to reason with these parents because their family values can offer differ so much from the leaders or workers at schools or after school clubs.
It is terribly frustrating to know that the parents of a child are not helping the development of their child, and often even hindering it. In order to work with these parents, you must not be judgemental of their decisions, but rather try to introduce them to new behaviour which may benefit their child, such as a healthy breakfast.
Disinterested Parents
In many ways, this is the most frustrating and heart-breaking category of difficult parents to deal with when you are working with children. It is so hard to not get angry when parents don't show up for meetings, allow their child to miss important events or do not prepare the child properly because of their own laziness.
In the first instance, it is worth seeing if you can engage with these parents. Think about what aspects of your interaction with their child you can share with them and try to gain their trust. If this is not getting anywhere, it may be that the child needs to be 'spared' the embarrassment of their parents' disinterest and you may perhaps have to help them a little more than other children, without drawing attention to the fact and embarrassing the child even further. Some parents don't change, sadly.
You might also like...